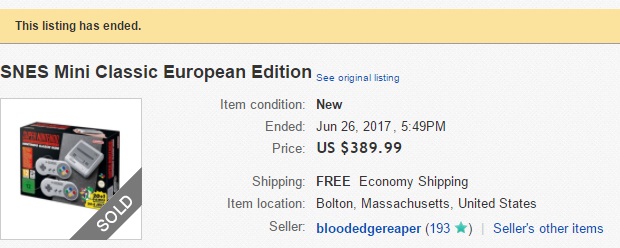 It has been less than 24 hours since the Super NES Classic Edition was announced, and we're still more than three months away from the plug-and-play system shipping to retailers. But that hasn't stopped resellers from profiting off "guaranteed" pre-orders for the system at significant markups over retail price.
A quick search on eBay already shows 23 "sold" listings for the Super NES Classic Edition (including its international counterparts) at a median price of $199, or a 150-percent markup from the $80 MSRP Nintendo is asking for. On Ebay UK, you can find 22 more units than have sold for a median of £180 (about $230), up significantly above the £70 to £80 retail price. One seller managed to get $389.99 for his pre-order, earning more than $300 in profit for being able to click quickly on the "buy" button.
Major US retailers seemingly haven't opened up official pre-orders for the Super NES Classic Edition yet, though some have set up landing pages to sign up for future stock alerts). Online pre-orders at British retailers including Amazon, Game, Smyths, and ShopTo sold out incredibly quickly after going up yesterday. Nintendo's official UK store also sold out within minutes after offering the system online today.